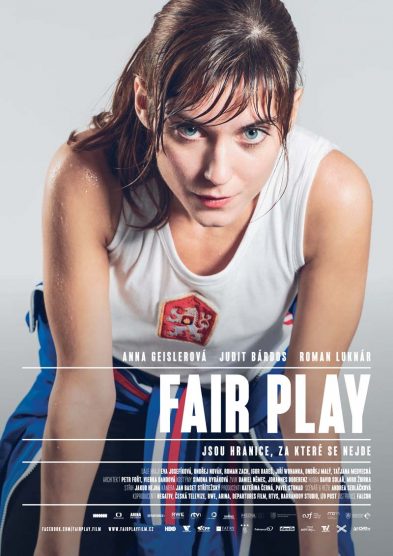 Set in Czechoslovakia in the 1980s, young and talented sprinter Anna (Judit Bárdos) is selected for the national team and starts training to qualify for the Olympic Games. As a part of the preparation she is placed in a secret "medical programme" where they begin dopeing her with anabolic steroids. Her performance improves, but after she collapses at training, she learns the truth. Anna decides to continue her training without the steroids even though her mother (Anna Geislerova) is worried that she won't be able to keep up with other athletes and might not qualify for the Olympics, which she sees as the only chance for her daughter to escape from behind the Iron Curtain.
Co-producers
ARINA, DEPARTURES FILM, CZECH TELEVISION, RWE, RTVS
Screening formats
DCP, BLU-RAY, HD FILES
Director
ANDREA SEDLÁČKOVÁ
Director of Photography
JAN BASET STŘÍTEŽSKÝ
Costume Designer
SIMONA RYBÁKOVÁ 
CAST
JUDIT BÁRDOS, ANNA GEISLEROVÁ, EVA JOSEFÍKOVÁ, ROMAN LUKNÁR, ONDŘEJ NOVÁK, ONDŘEJ MALÝ, JIŘÍ WOHANKA, IGOR BAREŠ, ROMAN ZACH, TAŤJANA MEDVECKÁ
Music
DAVID SOLAŘ, MIRO ŽBIRKA
SOUND DESIGNER
DANIEL NĚMEC
Production Designers
PETR FOŘT, VIERKA DANDOVÁ
Whilst German Democratic Republic was developing state controlled and systematic doping of athletes already in the 60's, Czechoslovak sport management only began actively developing a system of doping support in the beginning of the 80's. In the year 1983 Czechoslovak government got involved. Anabolic steroids were imported from abroad and they were borne by the state finances. In the beginning of the system, there were few "chosen" sports, where the anabolics could help the athletes to improve their performance. There was a laboratory established, which was testing the athletes as they traveled abroad to make sure that their doping results are not positive. In 1985, a highly secretive program was formed under the Health Ministry, called the Institute of National Health. Selected representatives were offered "specialised care" which was confirmed by signing a time limited contract. In cases where these athletes refuses any part of the "specialised care", couches and Communist Party officials had the right to exclude athletes from the representation. Athletes, couches and Communist Party officials had to keep the program and the system under a high level of secrecy. The approach of each sport department and club was different, so we cannot unanimously claim that all Czechoslovak athletes were taking anabolics. The pressure to be the best, not only came from the global competitors, but it was also magnified many times by the plans from "above", that must be completed. Apart from this, many athletes were taking the anabolic steroids even without knowing it. It was also found that there may have been a connection with doping and the deaths of some of the top Czechoslovak athletes as well.