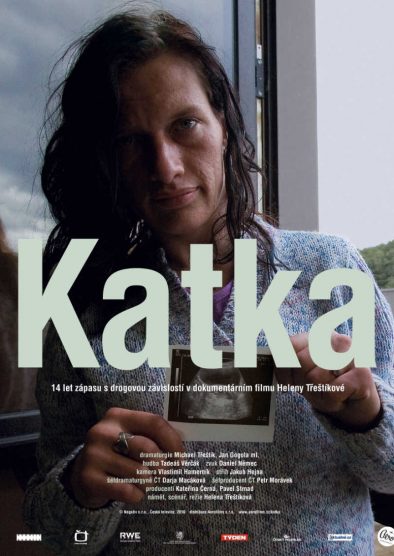 A 14-year battle with drug addiction
Helena Třeštíková's film is a remarkable documentary tracing fourteen years in the life of a young junkie and her futile battle with drug addiction. Why did she start taking drugs? She claims she wanted to be different. The year is 1996 and 19-year-old Katka lives in the Sananim therapy community in the town of Němčice with hope for a normal life – she dreams of having a boyfriend and even a family, some day. But there's no happy ending. The director records Katka's descent over the years into a spiral of theft, prostitution, physical and psychological deterioration – a spiral that is broken only by brief flashes of hope and resolutions to stop taking drugs. Katka's desire is sincere, but in the end drugs always win. Will Katka finally find the strength when she becomes pregnant and motherhood offers her life-sustaining motivation?
Co-producers
Czech Television, RWE, with the support of State Cinematography Fund (CZ)
Screening Format
DCP, 35 MM, SD FILES
DIRECTOR AND WRITER
HELENA TŘEŠTÍKOVÁ
DIRECTOR OF PHOTOGRAPHY
VLASTIMIL HAMERNÍK, KRISTIÁN HYNEK, MARTIN KUBALA, FERDINAND MAZUREK, BRAŇO PAŽITKA, MIROSLAV SOUČEK, TOMÁŠ TŘEŠTÍK
SOUND DESIGNER
VÁCLAV HEJDUK, STANISLAV HRUŠKA, JAROSLAV JEDLIČKA A DALŠÍ
About the film
"You bet on someone in the beginning of the process and then you wait and see what life does with them." This is how Czech director Helena Třeštíková explains her long-term documentaries. Following on from the European Film Academy Award winning RENE (2008), Trestikova brings us KATKA – 14 years in the life of a drug addict. KATKA is an extraordinarily raw and uncensored character portrait of a troubled young woman living on the edge of human existence, desperately searching for love and salvation.
Czech viewers first met Katka in 2001 when Czech Television told her story under the title Trapped as part of their Women at the Turn of the Century series. The raw, authentic depiction of one devastated life elicited such a strong response that the director decided to continue following the destiny of her subject. The resulting film is the final part of a loose trilogy of documentaries on the fates of people who find themselves pushed to their own ends or to the edge of society as the result of adverse circumstances. The first film, Marcela (2007), was based on Helena Třeštíková's successful Manželské etudy (Marriage Studies) cycle. René (2008), a portrait of an incorrigible repeat criminal.