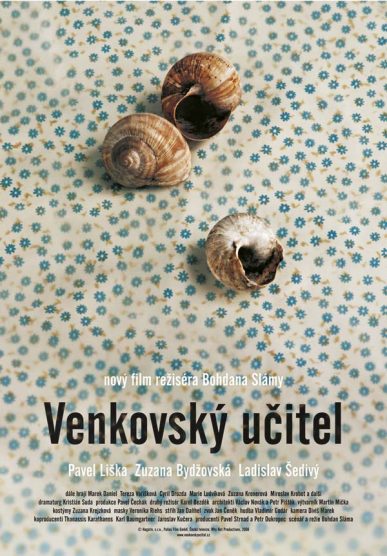 A young teacher with an impressive resume takes a job teaching natural sciences at a village grammar school. He makes acquaintance with a woman and her 17-year old son. The teacher has no romantic interest in the woman but that doesn't stop them from forming a friendship. One day, the teacher's ex-boyfriend comes to visit.  The ex-boyfriend quickly realizes that nobody in the village knows that the teacher is gay.  He also realizes that the teacher harbors a secret affection for the 17-year old boy.  His jealous actions set in motion a series of events that tests the inner strength and compassion of the teacher, the woman and her son.
CO-PRODUCER 
PALLAS FILM (DE), WHY NOT PRODUCTIONS (FR), CZECH TELEVISION, WITH THE SUPPORT OF STATE CINEMATOGRAPHY FUND (CZ), MITTELDEUTSCHE MEDIENFÖRDERUNG, EURIMAGES
SCREENING FORMATS
35 mm, SD FILES
WRITER AND DIRECTOR
BOHDAN SLÁMA
DIRECTOR OF PHOTOGRAPHY
DIVIŠ MAREK
CAST
PAVEL LIŠKA, ZUZANA BYDŽOVSKÁ, LADISLAV ŠEDIVÝ, MAREK DANIEL, TEREZA VOŘÍŠKOVÁ, MILOŠ ČERNOUŠEK, MARIE LUDVÍKOVÁ, ZUZANA KRONEROVÁ, MIROSLAV KROBOT
About the film
We tried to shoot a film about intimate, personal things, the kind of things that are similar everywhere, wherever people live. Looking for love is a never-ending battle which defines and forms man, an essence within every story, and unrequited love hurts no matter where you live, whatever your geographical location, it hurts the same everywhere. In this story, there are three main characters, each of whom has a fissure in their lives, a fissure to do with love. Marie is in love with the teacher, the teacher is in love with her son who, in his turn, is being dropped by his first love. In such a chain of unrequited love our characters don't have a chance to find any kind of fulfillment, and it is this they must set aright. Love has many forms, as many as there are people, and every piece of a relationship between one person and another has absolute value in itself. Recognizing this value is difficult because it asks us to accept even that which we don't always understand, to forgive even when we feel betrayed. Our characters may not find romantic love per se, but they can find a deeper friendship and they can grow from this. If someone is to mature, he must be capable of forgiving. The ability to forgive is one of man's greatest faculties. The ability to forgive restores faith in the meaning of life.